Our school is part of Pontefract Academies Trust (PAT).
The PAT was created under the provisions of the Academies Act 2010, as amended by the Education Act 2011. Its structure of governance is constituted under the Articles of Association. The Trust is an exempt charity by virtue of the Charities Act 2011.
The Funding Agreement between the Department for Education (DfE) and the Trust sets out the terms and conditions on which grant is made. The Trust Board is responsible for ensuring that the conditions of grant are met. As part of this process the Trust is required to have in place appropriate arrangements for sound governance, financial management, securing value for money and accounting, and for using public funds for the purposes for which they were intended by Parliament.
This Trust Board is accountable in law for all decisions about its schools. This does not mean the Trust Board is required to make all the decisions itself. Some decisions can be, and are delegated, including to SPRB, delegated officers, and other Trust Board established committees. The Scheme of Delegation sets out the framework which the Trust Board has approved.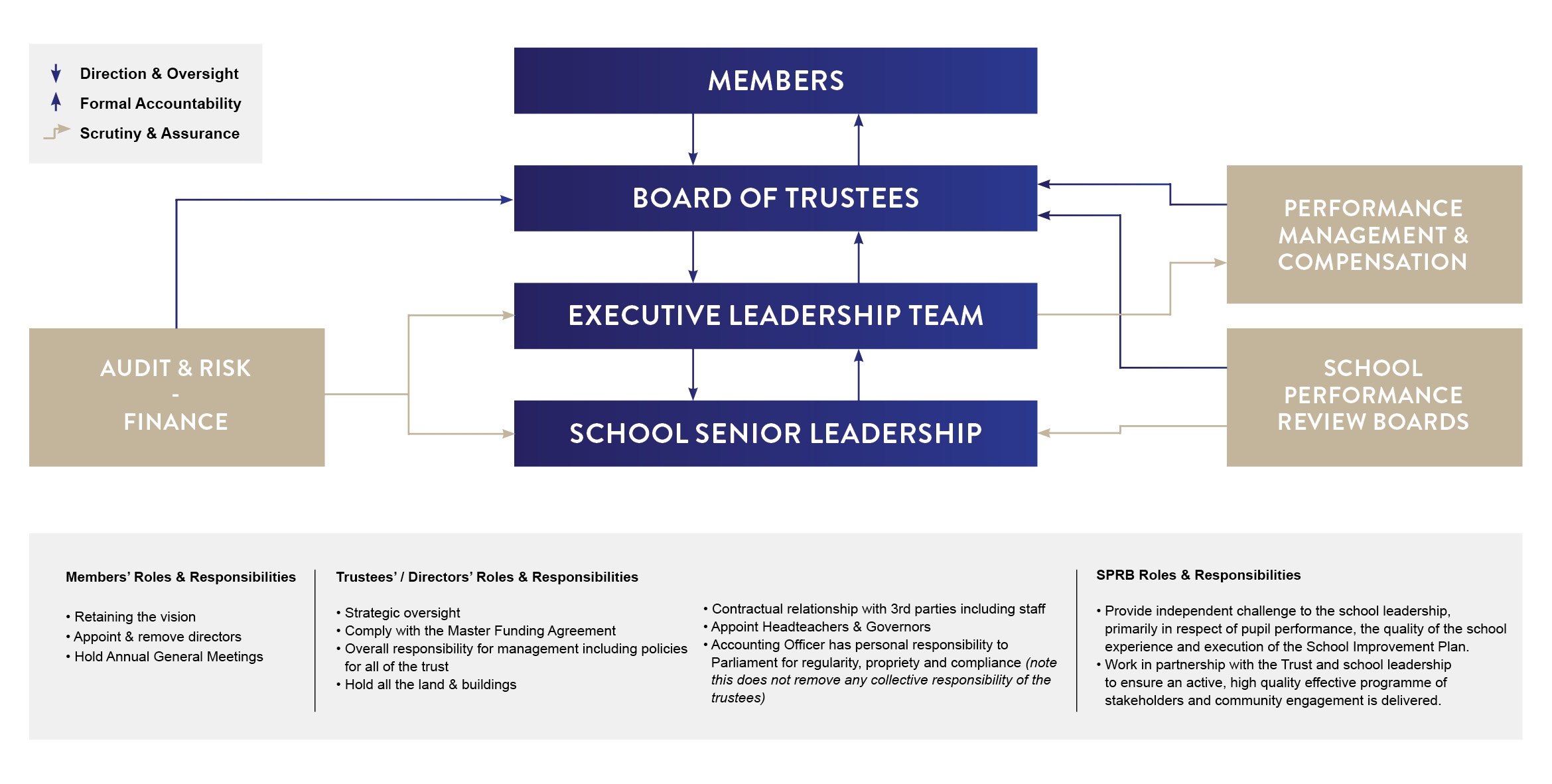 Carleton Park School Performance Review Board (SPRB)
The Carleton Park SPRB is a sub-committee of the Trust Board and has various responsibilities delegated to it through the Pontefract Academies Trust Governance Policy and Scheme of Delegation.
The SPRB of Carleton Park is currently made up of:
| | Role | From | To | Appointed by |
| --- | --- | --- | --- | --- |
| J Cross | Chair | 12/03/19 | 11/03/23 | Trust Board |
| J Ayre | Head of School | 01/06/18 | N/A | Ex-officio |
| D J Leigh | SPRB Member | 04/02/14 | 31/08/22 | Trust Board |
| N Loynes | SPRB Member | 20/01/16 | 19/01/20 | Parent Elected |
| R Simmons | SPRB Member | 20/01/16 | 19/01/20 | Parent Elected |
| L Hatton | SPRB Member | 13/05/19 | 12/05/23 | Trust Board |
The Interim Chair can be contacted at:
c/o Carleton Park J & I School
Carleton Park Junior & Infant School
Moxon Close
Pontefract
West Yorkshire
WF8 3PT
It is an honour and privilege to be the chair of the SPRB at Carleton Park J&I School, working in partnership with Mr Ayre and his colleagues, and with our committed SPRB.  It is evident that there is so much drive and energy from all involved with the school to ensure each child gets the very best start in their school life and I relish the opportunity afforded me as the interim chair to share my skills, interests and enthusiasm, to build on the excellent work the school has already been doing to ensure continuous school improvement.
Professionally, I have a background in education.  For 14 years I worked at Castleford Academy where, as well as being a Science teacher, I played a lead role as Deputy Headteacher in transforming the school into the highest performing school in the Wakefield Authority and in the top 6% of schools nationally.  In addition to this, as a Local Leader of Education I have worked for the NEW Collaborative Learning Trust where I project managed a Wakefield Authority school improvement project 'diminishing the difference in literacy for disadvantaged learners' across 13 underperforming schools, consisting of 10 primary and 3 secondary schools. From September 2018, I have had the honour of being Head of School at Carleton High School.  There I have enjoyed leading the school through a period of significant change, whilst working with dedicated staff, amazing students and their parents.  I am proud of the reputation Carleton High School now has amongst the local community and that our students benefit from an exceptional education that places no ceiling on what students can achieve.
I have a wealth of experience and knowledge of school improvement, Ofsted and data analysis, and it is with the knowledge and skills acquired in my professional life that I now draw upon as a member of the SPRB. I enjoy and thrive on the challenge that comes with every aspect of school life and I am passionate about high quality education with each and every child reaching their full potential. Nothing but the best is good enough for the children of the Pontefract community.
Joe Ayre (Head of School)
I am local to Pontefract and attended Carleton Park Junior & Infant School as a child. I care enormously about the school and our town; providing the best education possible for all our children is my unrelenting aim. There have been key development areas that we have focused on this academic year but what matters most to me is encouraging and developing a love of reading, as we strongly believe this opens up doors to a successful future and well rounded individuals.
David Leigh (SPRB Member)
I'm a geologist by profession and we moved to Pontefract in 1978 when I joined the National Coal Board, based at Allerton Bywater. Carleton Park has always been close to my heart; my four children all attended the school between 1988 and 2003. I have been on the SPRB since 1989, including a spell as Chair. My aim is to give something back to the school in return for the outstanding start it gave my children both educationally and socially, and I regard it a privilege to be able to help with fundraising and school functions, particularly the outings and residential visits with the children. Carleton Park continues to thrive as a school under Mr Ayre and his team and they deserve to get the best possible support from the SPRB – our aim is to ensure that they get just that.
Nathan Loynes (SPRB Member)
I've lived in the same house on Carleton Park estate since I was four years old. I'm extremely proud to come from Pontefract; I'm proud of its history and its community spirit. I have a strong commitment to fairness and social justice, and this is reflected in my career experience and skills in local children's services as a social worker. Learning is also close to my heart; for the last ten years I've been a university lecturer. Alongside full time working, I've continued to study and gain qualifications in my own time. Primary education is vitally important for children: done well, it's a golden opportunity to inspire children to find out more about their 21st century world, and be the lifelong learners they need to be to succeed in it.
Ruth Simmons (SPRB Member)
I've spent most of my life in Pontefract, starting my own education at Carleton Park J&I school. It's a privilege to be involved as a Member of the SPRB in a school where I started myself and which all three of my children attend. I work as a local general practitioner and have my own practice. Within our practice I'm greatly involved in safeguarding, palliative care and family planning. To me, primary school is the start of a journey supporting children to aspire to have hopes and dreams in life. It is in primary schools that these foundations are formed and supported. I'm pleased to be part of supporting Carleton Park and Mr Ayre's team. It has been a pleasure to see the school develop; the results, attitudes and behaviours are a credit to the staff at Carleton Park.
Lucy Hatton (SPRB Member)
I grew up in Pontefract and returned to live here and bring up my family, following four years in Manchester to complete my degree. Both of my children attend Carleton Park Junior and Infant School and I am proud to support Mr Ayre and his team, both as a parent and through involvement with the SPRB. I am an Educational Psychologist by profession and have spent 10 years working for a neighbouring Local Authority, supporting schools to develop inclusive practices, develop the skills of teachers and identifying Special Educational Needs for young people aged 0 to 25. I am passionate about Inclusion and firmly believe that every child and family should be supported to achieve their aspirations. Carleton Park Junior and Infant school provides a nurturing environment to children at every stage of primary education, whilst also setting high expectations and attaining positive outcomes. I value the opportunity to support the school to continue to grow and shine.
SPRB Current Register of Business Interests
Role
Name of business or organisation/educational organisation
Nature of business or organisation
Nature of interest
Date of appointment of acquisition
Date of cessation of interest
J Cross
Chair
None declared
J Ayre
Head of School
None declared
D J Leigh
SPRB Member
None declared
N Loynes
SPRB Member
Carleton Park J & I School
Education provider
Children in school
2012 and 2014
R Simmons
SPRB Member
Carleton Park J & I School
Education provider
Children in school
2012, 2015 & 2017
L Hatton
SPRB Member
None declared
SPRB Membership & Attendance Summary 2018/19
From
To
Appointed by
Meetings attended
Out of a possible
J Ayre
01/06/18
N/A
Ex-officio
4
4
D J Leigh
04/02/14
31/08/22
Trust Board
3
4
N Loynes
20/01/16
19/01/20
Parent Elected
3
4
R Simmons
20/01/16
19/01/20
Parent Elected
2
4
J Cross
12/03/19
11/03/23
Parent Elected
2
2
Left within the last 12 months:
R Gibbins
20/01/16
12/03/19
Ex-officio
3
4