At Carleton Park, we have a steadfast commitment to fostering the holistic growth of our students. We go above and beyond the expected standards to provide a diverse range of experiences that empower our pupils. Our dedication to nurturing their talents and passions is unparalleled, ensuring that they have access to exceptional opportunities.
Our school motto:
Be the best you can be 
 is at the heart of everything we do at Carleton Park. Our school values sitting beneath this: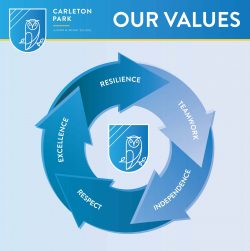 We focus on 5 areas of Personal Development:
Talents and Interests
At Carleton Park, we recognise the unique talents and interests of each pupil and provide exceptional opportunities for their development. Our diverse range of extracurricular activities and clubs allows pupils to explore their passions, whether in sports, arts, music, STEM, or other areas. We offer expert guidance and support to help pupils cultivate their skills and pursue their passions to the fullest.
World of Work
Preparing pupils for the challenges and opportunities of the professional world is a priority at Carleton Park. We offer valuable experiences and resources to help pupils develop a clear understanding of different career paths and the skills required to succeed. Through career workshops, industry visits, guest speakers, and internships, we connect pupils with professionals, providing them with real-world insights and guidance to make informed choices about their future.
Trips, Visits, and Exposure to the Wider World
Carleton Park believes in broadening horizons and exposing pupils to diverse cultures, environments, and experiences. We organise a range of educational trips and visits that extend beyond the classroom, allowing pupils to discover new perspectives, develop empathy, and build a global mindset. These experiences include local and international trips, cultural exchanges, and partnerships with organisations that foster an appreciation for the wider world.
Activities, Clubs, and Co-curricular
Our comprehensive range of activities, clubs, and co-curricular offerings forms an integral part of our personal development program. Pupils can choose from a wide variety of clubs, such as debate, drama, community service, coding, and more. These activities provide opportunities for pupils to develop leadership skills, teamwork, creativity, and a sense of responsibility, while also fostering a strong sense of community and belonging.
Curriculum
Carleton Park integrates personal development into the curriculum, ensuring that every subject area contributes to the holistic growth of our pupils. Our curriculum is designed to foster critical thinking, communication skills, problem-solving abilities, and ethical awareness. Through project-based learning, interdisciplinary studies, and values-based education, we empower pupils to become lifelong learners who are prepared to navigate an ever-changing world.
The brilliant opportunities and experiences the pupils of Carleton Park receive at our fantastic school can be seen in more detail here: